The iMini v2 Cartridge vaporizer is one of the best products on the market for a powerful yet stealthy vaping experience. Measuring at two inches, this small device when fully charged can provide some of the most magnificent vaping clouds you have ever seen. It can handle thick oils and has a battery life that can last the average user a multitude of days, even weeks! In this article, we will go into the details and intricacies of the iMini v2 including: what kinds of cartridges are compatible, how to use its variable voltage and pre heat mode, and when to use each voltage setting. We will also be diving into the main concerns and problems that users will run into when using the iMini v2. Trust me, there is more than meets the eye!
The iMini v1 vs The iMini v2
In order to fully appreciate all the features and functions of the iMini v2, we must first venture back in time to the first iteration of the iMini: the iMini v1.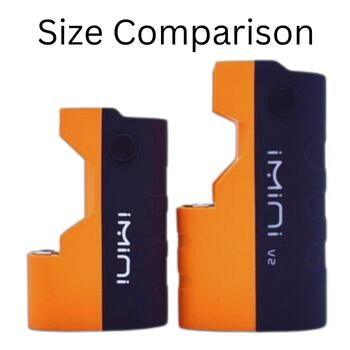 As shown by this image, the iMini v1 was slighly smaller than its newer counterpart, but the differences don't end there. The iMini v2 is an all around better vaping device, complete with a longer battery life, a stronger 650mAh battery, and various new settings and features.
Although the iMini v1 will definitely not be the first vape battery choice for new buyers, we cannot disregard how truly innovative this tiny piece of technology was to the cartridge battery niche. In a time where all other options were large, clunky, metallic and delicate, the compact and rubberized design of the iMini battery provided an elegant solution. No longer did you have to choose between a large overpriced box or a battery that resembled a pencil to enjoy your vape cartridge.
How to Use the iMini v2
If you have used a vape battery in the past, using the iMini battery will be pretty straightforward. First, you need to ensure your battery is properly charged and ready to be utilized. A standard Micro USB charger will get the job done. You will know your iMini v2 is fully charged when it shows a green light.
Once you screw on your choice of 510 CCell vape cartridge, you are now ready to turn on the iMini v2. Press the power button five times to turn on your battery. This will be followed by three blinks of the light to confirm that the battery has been successfully turned on. Now just hold the button and take a drag from your vape (we recommend newer users do 2-3 seconds to test it out). To turn off your iMini you will need to press the power button five times.
How to Change the Voltage Setting on the iMini v2
Changing between the three different modes can be difficult at first, but once you do it a few times you will get the hang of it. All you need to do is click the power button three times quickly. Once done, the iMini battery will quickly change to the next color or voltage setting.
What Each Voltage Setting Means and When to use them
The iMini v2 is complete with three variable voltage settings. It is important to understand each setting so that you can choose the custom smoking experience that is best for you.
Green
- 2.9v - The first and lowest voltage setting. This is going to be the preferred voltage setting of beginner vapers. This setting provides the mildest draw of all our different settings. The green voltage is also associated with maximizing flavor intensity, since a lower heat usually correlates to better taste from your cartridge. This setting is also great when you are trying to conserve the e-liquid or distillate in your cartridge
Yellow
- 3.3v - The second setting, also known as the "normal mode." This setting is for those to want to experience both a flavorful yet strong hit. This variable voltage setting was strategically placed at 3.3v in order to deliver a strong hit but not over do it. Yellow will be the preferred setting for the average vaper and our recommendation.
Red
- 3.8v - This is the last and strongest variable voltage. This setting is specifically intended for the veteran vapers who are looking to maximize the effect from their chosen e-liquid or oil cartridge. We do not recommend this setting for anyone who is new to vaping or with a lower tolerance. This setting is only to be used once you understand the potency and strength of the current cartridge you are using. This voltage setting will also use your e juice or distillate much faster than the other settings, and can also minimize the flavor expression.
How to Use the Preheat Function
The preheat mode is another great feature of the iMini v2. To active the preheat mode just click the button twice quickly. This will immediately put your iMini v2 into preheat. It will now cycle between red, orange, yellow, green, blue, purple and pink during the preheating process. This is a great way to soften up thicker oil cartridges and start a great sesh.
iMini v2 Troubleshooting
Although the iMini v2 battery is one of the most reliable cartridge batteries on the market, just like all electronics, it won't last forever. Its imperative to treat our iMini battery correctly so that we can maximize its lifespan and enjoy its features for as long as possible. The list below contains our recommendations and best practices to ensure your iMini battery can withstand any vape cartridge.
Don't Overcharge your iMini v2 - Try not to leave your iMini battery charging for extended periods of time as this can reduce its battery life and eventually lead to battery failure. This also means don't charge it overnight!
Protect your Micro USB charging port from debris - Don't allow unwanted dirt or debris into your charging port as this can prevent your iMini v2 from charging properly.
Make Sure your Cartridge/Vape is clean and not leaking - Sometimes cartridges can leak and cause e juice or distillate to spill onto your iMini battery
Why is My Vape Pen Not Working?
There are three main reasons your vape battery is not working. It is either out of battery, dirty/sticky, or incompatible with your current oil cartridge or e juice.
If you are certain none of these problems pertain to your current vape, then your vape battery has run its course and reached the end of its lifespan. It is time to get a new one.
Final Thoughts
Overall, the iMini v2 battery is a must have in every vape cartridge smokers arsenal. It is a discreet vaporizer which stand two inches tall and has a 650mAh battery. It works with any 510 thread cartridge and is sure to turn any good sesh into a great one. It is available in a variety of different colors such as: yellow, pink, purple, orange, blue, red, green, black, white and even the rare gold and silver chrome options.
Where Can I Get an iMini v2?
iMini v2 vape batteries are very popular and are available at various different retail and online stores. If you are looking for the most reasonably priced iMini v2 then look no further. We carry iMini v2 vaporizers in a variety of different colors for the cheapest price on the internet.
[This article and entire website is intended for people who are the legal smoking age (21+). Customers must agree to age verification upon purchase. Contact support@goldenleafshop.com for any questions]