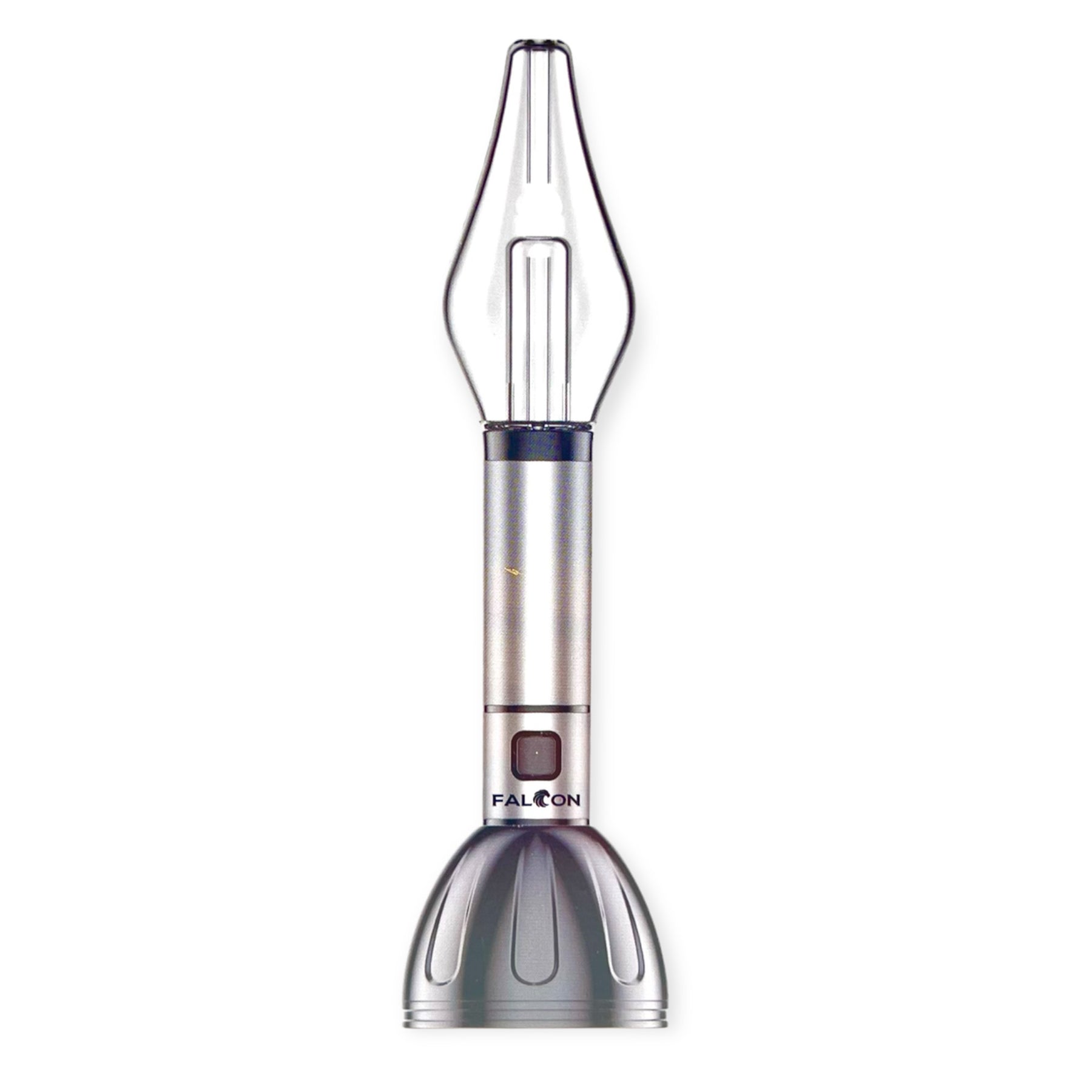 Yocan Falcon Kit - 6 in 1 Multi-Use Vaporizer
The Yocan Falcon 6-in-1 vaporizer brings a brand new level of exploration and customization to the vaping community! This one-of-a-kind device is designed for both wax and dry herb enthusiasts, providing multiple modes and attachments that allow you to switch between materials without changing devices. Discover what makes this remarkable item stand out from all other options on the market with its unparalleled adaptability, unlock your own personal vaping experience today!
Discover how this incredible six in one device offers something unique every day – dive into an endless variety of flavors with versatility exclusive only to the amazing Yocan Falcon vaporizer. With its top tier performance levels guaranteed by leading engineers, trust your falcon will make each session unforgettable.
Short Summary
Unveil the Yocan Falcon 6-in-1 Vaporizer for customizable wax and dry herb vaping experience.

Enjoy refined flavor with nectar collector mode & pancake coil, quartz triple coil for intense clouds.

Optimize your session with temperature settings, 1000mAh battery life & USB charging port. Clean regularly to maintain performance.
Unveiling the Yocan Falcon 6-in-1 Vaporizer
The Yocan Falcon 6-in-1 vaporizer is perfect for those who demand the ultimate in personalization when it comes to their vaping. This revolutionary device, designed with wax and dry herb users in mind, offers a unique versatility. You can switch between multiple attachments and modes at will! Offering all types of customizable options, the Yocan Falcon really stands out as an ideal tool.
No matter your preferred setup or settings - this falcon 6-in-1 vaporizer has got you covered. Make sure to check it out if adjustable adaptability is what you're looking for – no other vape can offer such variety from one unit alone!
Wax Pen Vape Mode
The Yocan Falcon wax pen mode provides a convenient traditional dab-pen experience designed specifically for when you're on the go. This model offers remarkable results with its strong performance capabilities as well as amazing flavor and vapor cooling through an optimized internal airway pathway. It eliminates the need to carry multiple devices, replacing them all with one powerful device! Please note that regular maintenance is required in order to avoid clogs which can greatly influence performance levels.
Nectar Collector Mode
For those wishing to enhance their vaping experience with smoothness and flavor, the Yocan Falcon's nectar collector mode is your perfect solution. Through its glass attachment, which supplies water filtration and moisture conditioning, users can enjoy wax concentrates like never before. Experiencing unparalleled satisfaction from each draw of vapor. Treat yourself to this refined pleasure today!
Components and Attachments
The Yocan Falcon vaporizer is designed to provide versatile vaping options and a personalised experience, featuring pancake coils for dry herbs along with quartz triple coil attachments, all contained within its multi functional device. This makes it easy to switch between different materials in order to ensure an enjoyable vape each time you use the unit. Plus, users can also utilise the glass attachment on their model of choice, which allows for water filtration if desired. Enhancing your overall performance from this convenient falcon vaporizer!
Pancake Coil
The pancake style coil is an ideal solution for those who want to vape dry herbs while on the go. It's made of stainless steel and boasts a large surface area, allowing it to heat up evenly as well as efficiently vaporize your favorite dried botanical plant matter without producing any harshness or unpleasant taste. When paired with its handy glass attachment, this compact coil ensures you'll have nothing but smooth results every time! Thanks to Yocan Falcon's convenient pancake design, using it doesn't require much effort whatsoever.
Quartz Triple Coil
The quartz tri coil offers a potent and efficient vaping experience with concentrates. Composed of three coils, which wrap around the quartz rods, it generates high heat for powerful clouds and flavorful hits. With different types of these heating elements available to purchase, you can enjoy an upgraded vaporization experience at its finest when connected to your Yocan Falcon device by adjusting your preferred temperature setting.
A triple-coiled element made from quartz provides that smooth yet intense hit every time - whether it's through big clouds or some strong flavor! The best part is that all this amazing power comes in one package ensuring less effort on the user's side but better results overall. Making sure each session leaves a lasting impression worth remembering.
Glass Attachment
Experience the flavors of your chosen material more fully with the Yocan Falcon's glass attachment. Hand-blown to fit perfectly, this accessory has been carefully crafted in order to provide a filtration system that cools and filters vapor, making for richer tastes and smoother hits than ever before. Allowing water to filter through it also helps increase flavor while ensuring each puff is truly enjoyable. Elevate your vaping session today by taking advantage of what these amazing features have to offer!
Customizing Your Experience: Temperature Settings
The Yocan Falcon provides users with three different temperature settings (3.2V, 3.7V and 4.2V) so they can customize their vaping experience to perfectly suit their preferences, from an intense flavor to an extra smooth hit via the adjustable voltage levels it offers up its users! Allowing for maximum customization control, this cutting-edge device puts complete power in your hands when it comes to making sure you have the perfect tailored vape session every time.
Finding the Perfect Temperature
The Yocan Falcon vaporizer allows users to explore and uncover the perfect blend of flavor and vapor by playing around with different temperature settings. As experimentation is encouraged, you could find a lower temperature more enjoyable for gentle taste or boost it up higher if you're looking for an intense hit. So don't be shy – see what other experiences your material can bring when adjusting temperatures!
Battery Life and Charging
The Yocan Falcon is equipped with a 1000mAh battery, which can provide ample energy for many sessions. This robust battery capacity ensures that you don't have to keep recharging your device every time you want to use it. The device uses USB-C chargers – making charging hassle free and efficient. With this feature in place, vaping on your Yocan Falcon becomes an worry-free experience where power isn't something you need to think about.
Discreet Design and Portability
The Yocan Falcon is the ideal accessory for your vaping needs, no matter where you are. It offers an easy-to-carry device with a sleek and discreet design that can be used on the go without drawing too much attention. This compact unit provides powerful functionality as well as versatility when it comes to enjoying all of your favorite materials in one convenient package. The convenience factor makes this small but mighty falcon perfect for everyone who wants access to their vaporizer even away from home!
Maintenance and Cleaning
Maintaining your Yocan Falcon properly is an absolute must for maximum performance and to keep the airflow from becoming blocked. Cleanliness has a big role in making sure you have an enjoyable vaping experience, so take advantage of all cleaning materials included with it, specifically that mini brush! With proper maintenance applied regularly, the Falcon will continue providing stellar results every single time.
Comparing the Yocan Falcon to Other Vaporizers
The Yocan Falcon is a top pick in the vaping market due to its versatility and affordability. With both wax and dry herb capabilities, it can cater to multiple styles of usage with customizable settings for users that want an all-in-one solution without sacrificing quality performance over dedicated units.
This device stands out from other vaporizers as it provides various modes which allows you more control on your vaping experience than before! Whether enjoying short or long sessions, adjusting temperature levels or switching between different materials - this machine has many options built into one vape providing great value for those who are seeking convenience but don't necessarily need specific expertise per material type.
Overall, the Yocan Falcon offers features unique among vaporizers such as wax/dry herb combined functionality while also maintaining affordable prices compared to others making it stand out within the industry today.
Summary
The Yocan Falcon 6-in-1 vaporizer is an ideal device for anyone looking to tailor their vaping experience. With a range of temperature settings and modes, as well as attachments suitable for both wax and dry herb varieties, the Falon provides plenty of opportunities to experiment with personalizing your session - even if you're just getting started!
From its ability to provide versatility through diverse configurations right down to being able to customise each individual draw. What makes this machine unique can be summarized in three simple words: flexibility, freedom & choice. You'll find yourself free from limitations while enjoying precisely tuned flavors every time thanks to the Yocan Falcon's advanced system design to perfectionnally cater to all users' desires.
Frequently Asked Questions
Is the Yocan Falcon worth it?
The Yocan Falcon Vaporizer is an excellent choice for both novices and seasoned vapers, coming with all the essential supplies. It offers a combination of features making it well worth considering.
How long does a Yocan vape last?
The Yocan UNI Pro can last quite a while - from 1-3 days with moderate use or even up to two weeks if you're more of an infrequent vaper. If your device is beginning to show any one of the 7 signs, then it's time for fresh coils.
How do I get my Yocan vape to work?
To activate your Yocan vaporizer, press the button 5 times and hold for 3-5 seconds. Your device will then heat up before automatically shutting off after a period of five minutes has elapsed.
What materials can the Yocan Falcon vaporize?
The Yocan Falcon is a great tool for vaping both dry herb and wax, providing an enjoyable experience with various materials. This device has the capability to vaporize different substances so you can benefit from it in more than one way!
How do I switch between the different modes on the Yocan Falcon?
It's a simple process to change between modes on the Yocan Falcon, just switch out attachments and adjust the temperature settings. Doing so with this device is straightforward, allowing you to quickly customize it according to your needs.
Great Vaporizer
Love this vaporizer, I had never seen this and works perfectly. Shipping was fast and definitely is top quality.