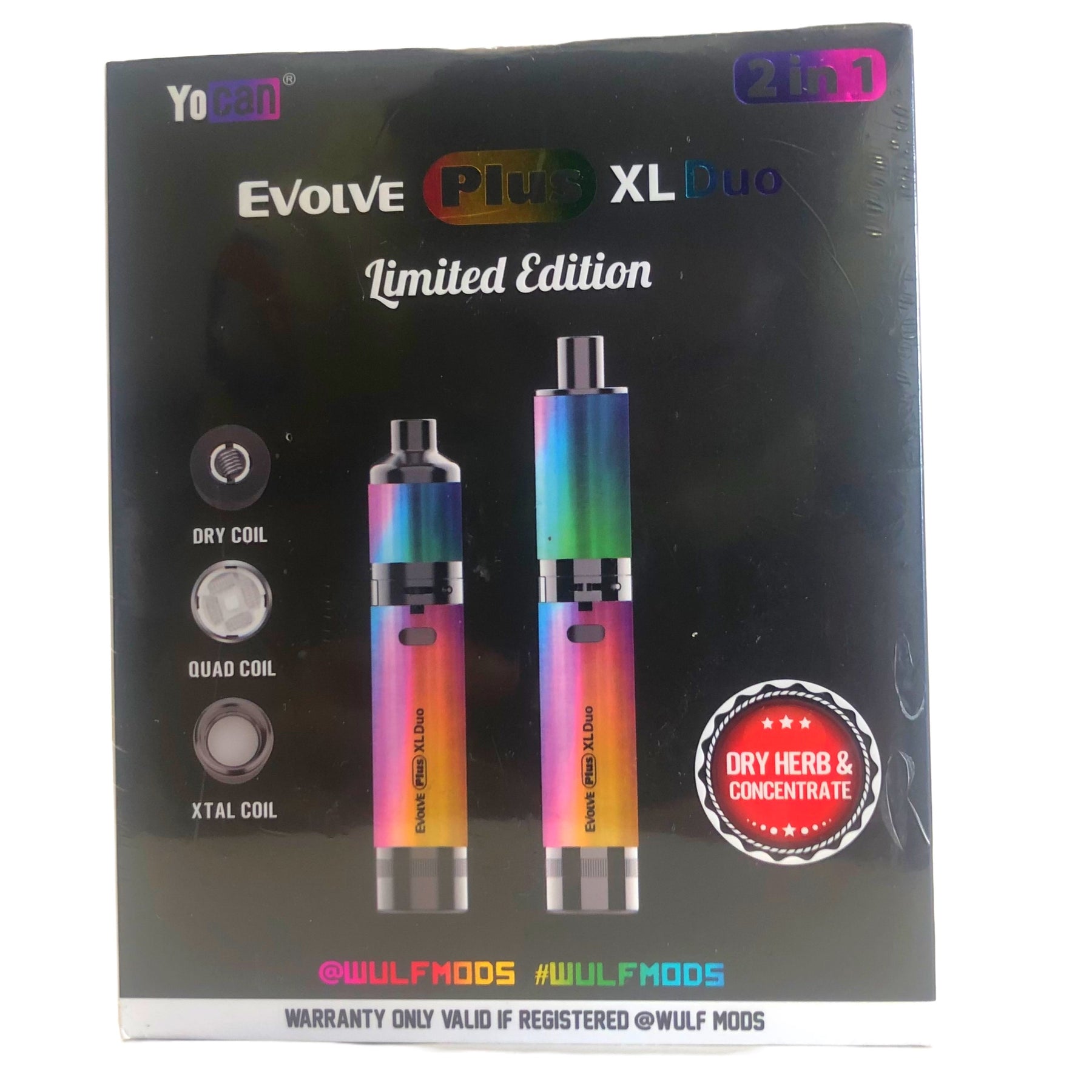 Yocan Evolve Plus XL DUO 2 in 1 by Wulf Mods
The Yocan Evolve Plus XL DUO was created specifically for those who want to smoke Wax and Herbs from the same device. Yocan and Wulf have collaborated and taken their multiple years in the vaping industry to create the current leading wax pen/herb pen.
This device uses a powerful 1400mAh Battery that has been proven to last a long time. The battery is powerful enough to handle all herbs, wax, crumble, diamonds and pretty much anything else you can think of. 
Multiple Coils
XTAL Coil - This coil is for concentrates and produces crystal clear hits. This coil is for users who want to preserve the taste and flavor of their concentrates while enjoying smoother hits.
Quad Coil - This coil is for concentrates and produces massive hits. The quad coil features 4 high quality quartz rods that will vaporize any concentrate that is placed into it. This coil is perfect for those who want to maximize the effect of their concentrates in a short amount of time. 
Dry Coil - This coil is for vaporizing dry herbs and plant materials. It comes with a specific mouthpiece to enhance the vaping experience.
Features of the Evolve Plus XL DUO
For Concentrates and Buds

Wax Coils - XTAL Coil and Quad Coil

Herb Coil - Dry Coil

Easy to Use

Adjustable Airflow

1400mAh Battery

Micro-USB Charger
What's in the Box?
Evolve Plus XL DUO Battery

Dry Herb Atomizer

Mouthpiece

XTAL Coil

Quad Coil

Dry Coil

Cleaning Tool

USB Cable

Pick Tool

Instruction Manual
Took a Chance
When I first read the reviews on this product I thought it was overpromising. To be fair I have only used it for shatter and never have run into any problems while use. For anyone wondering it works the best when it is full charged and the airflow is fully open. Small dabs many times works better than one large dab.