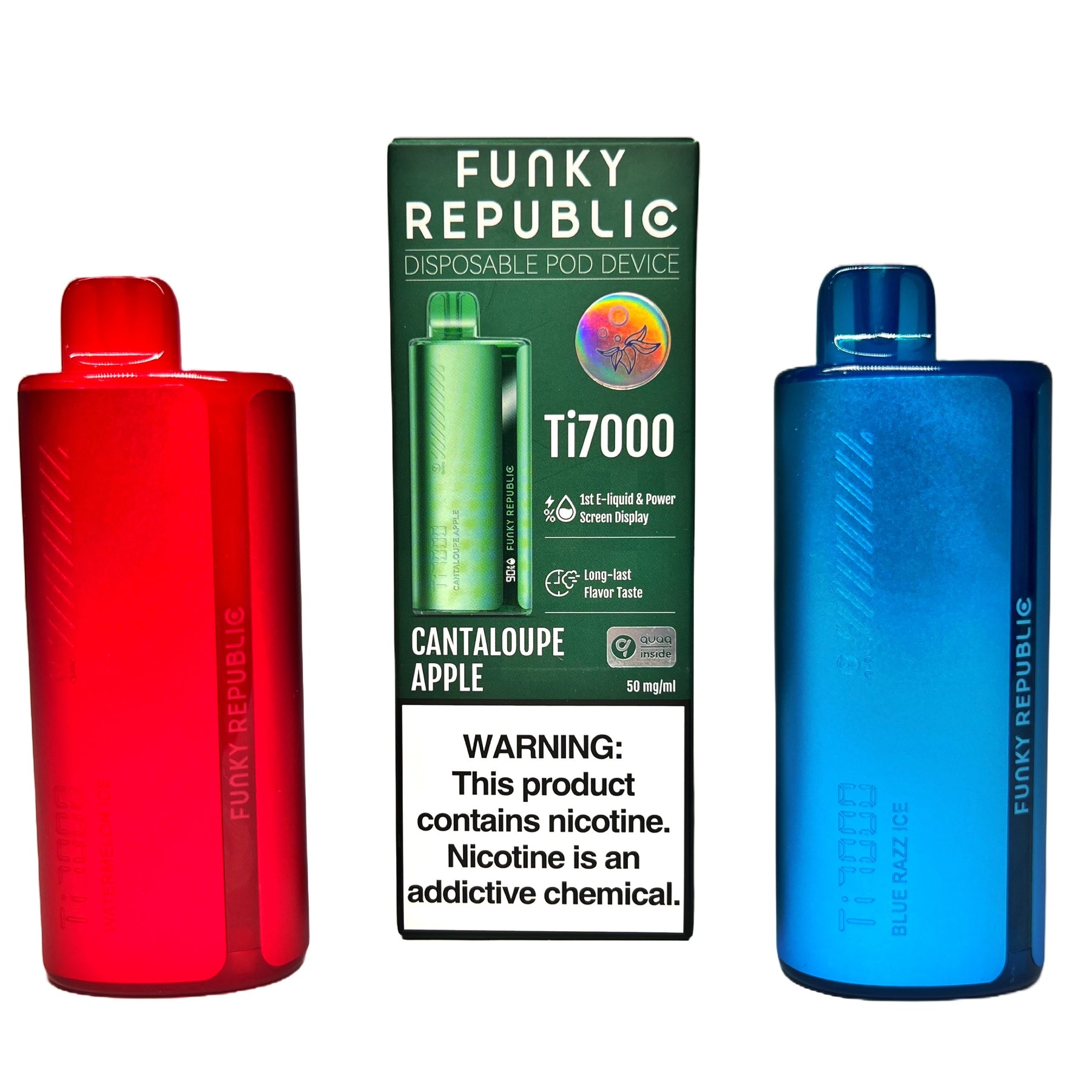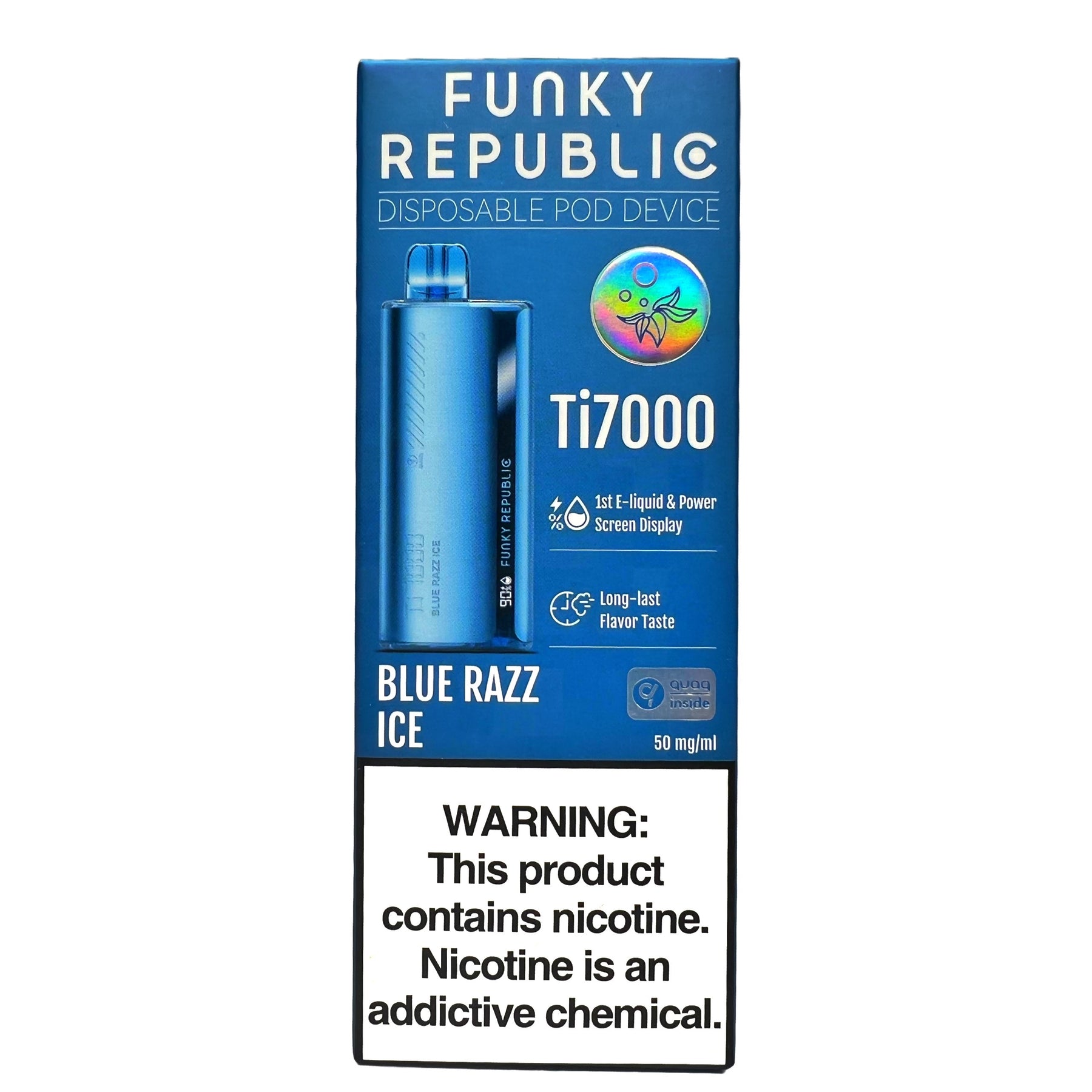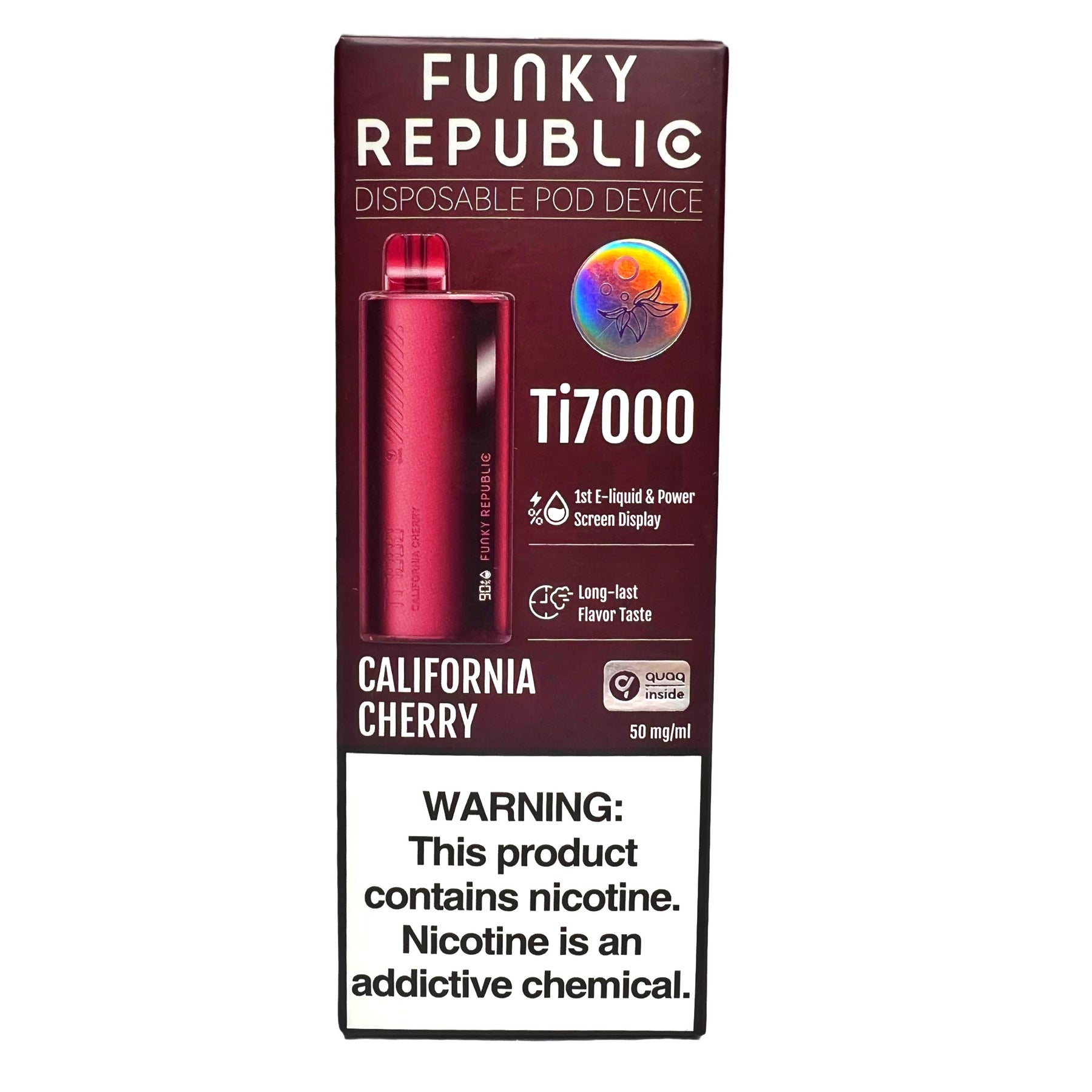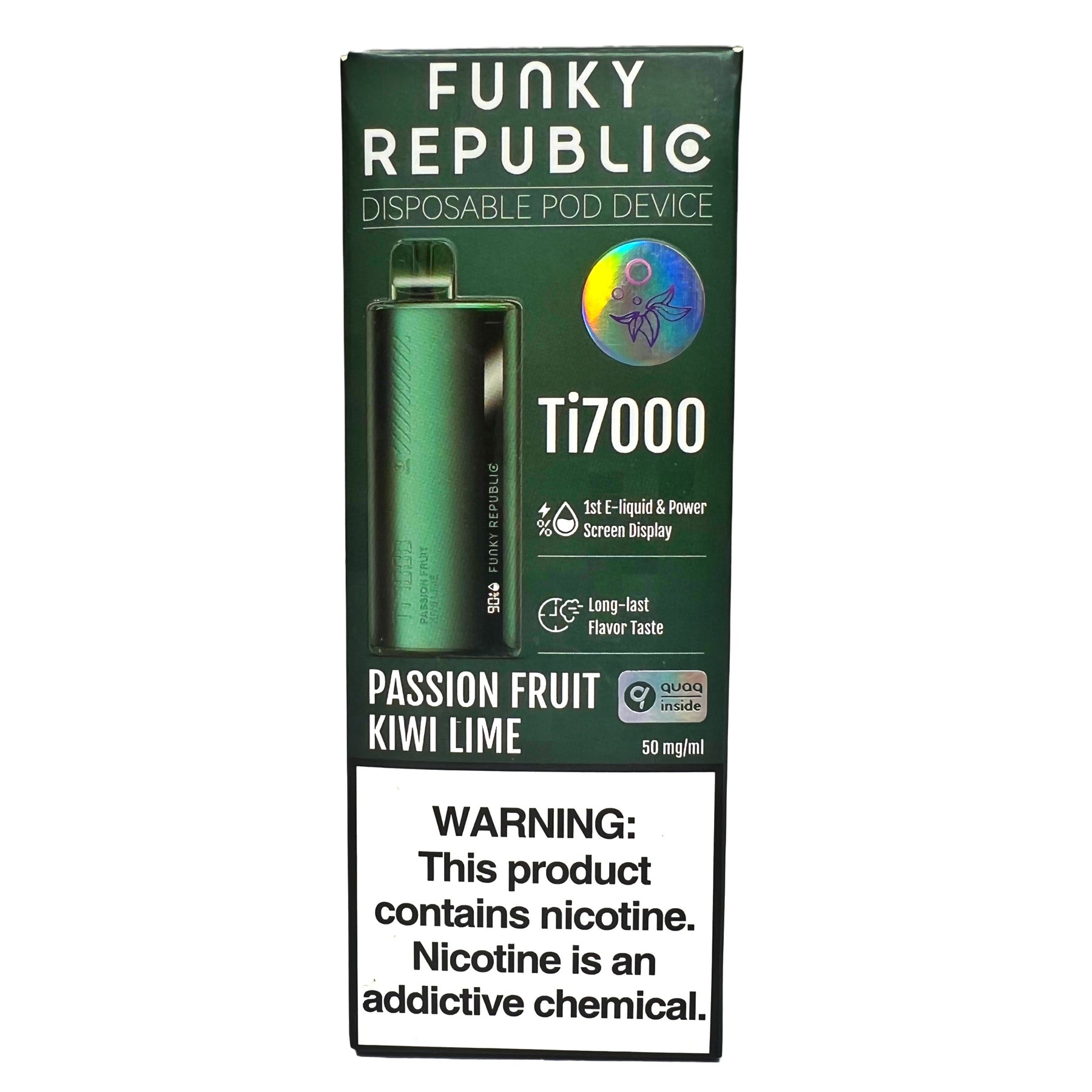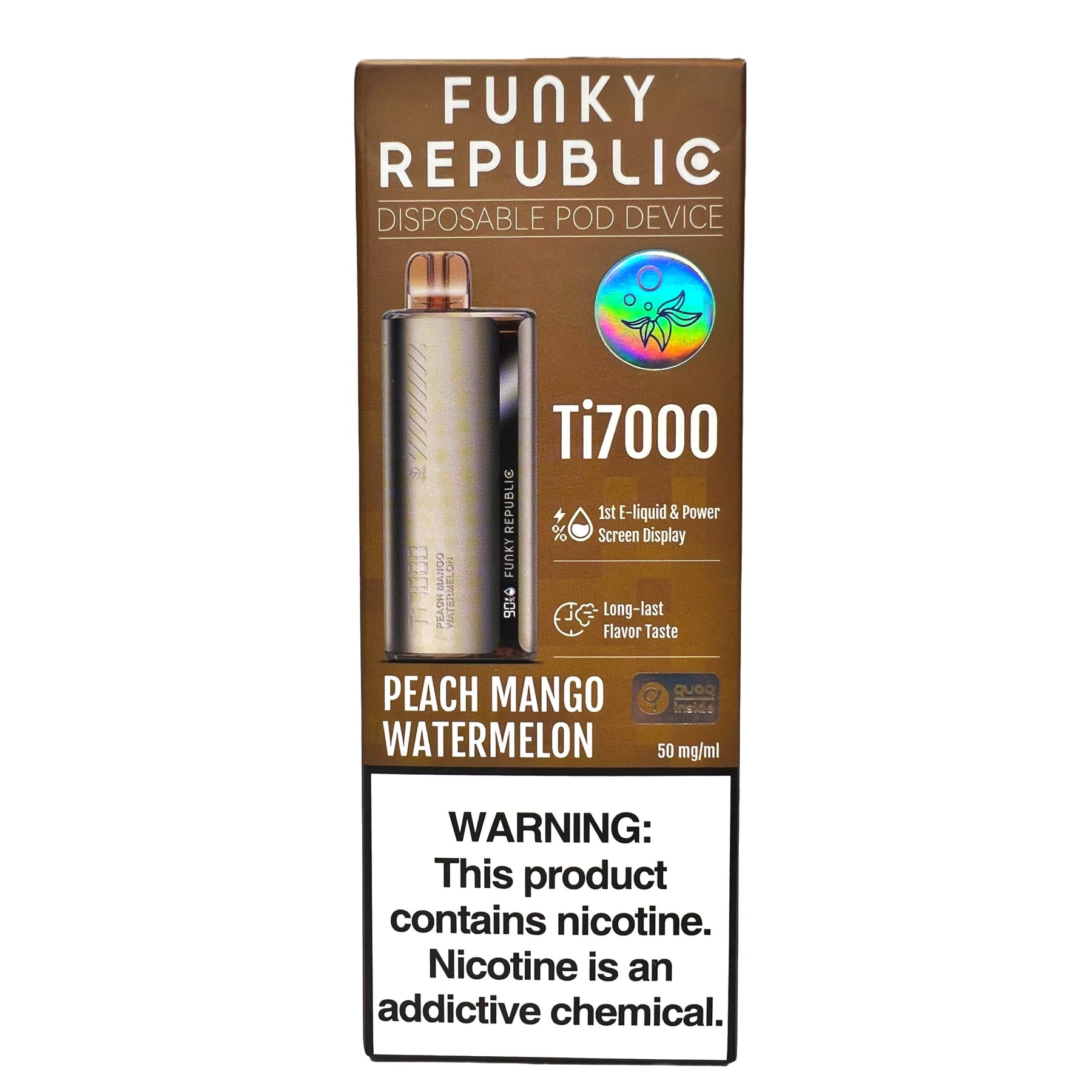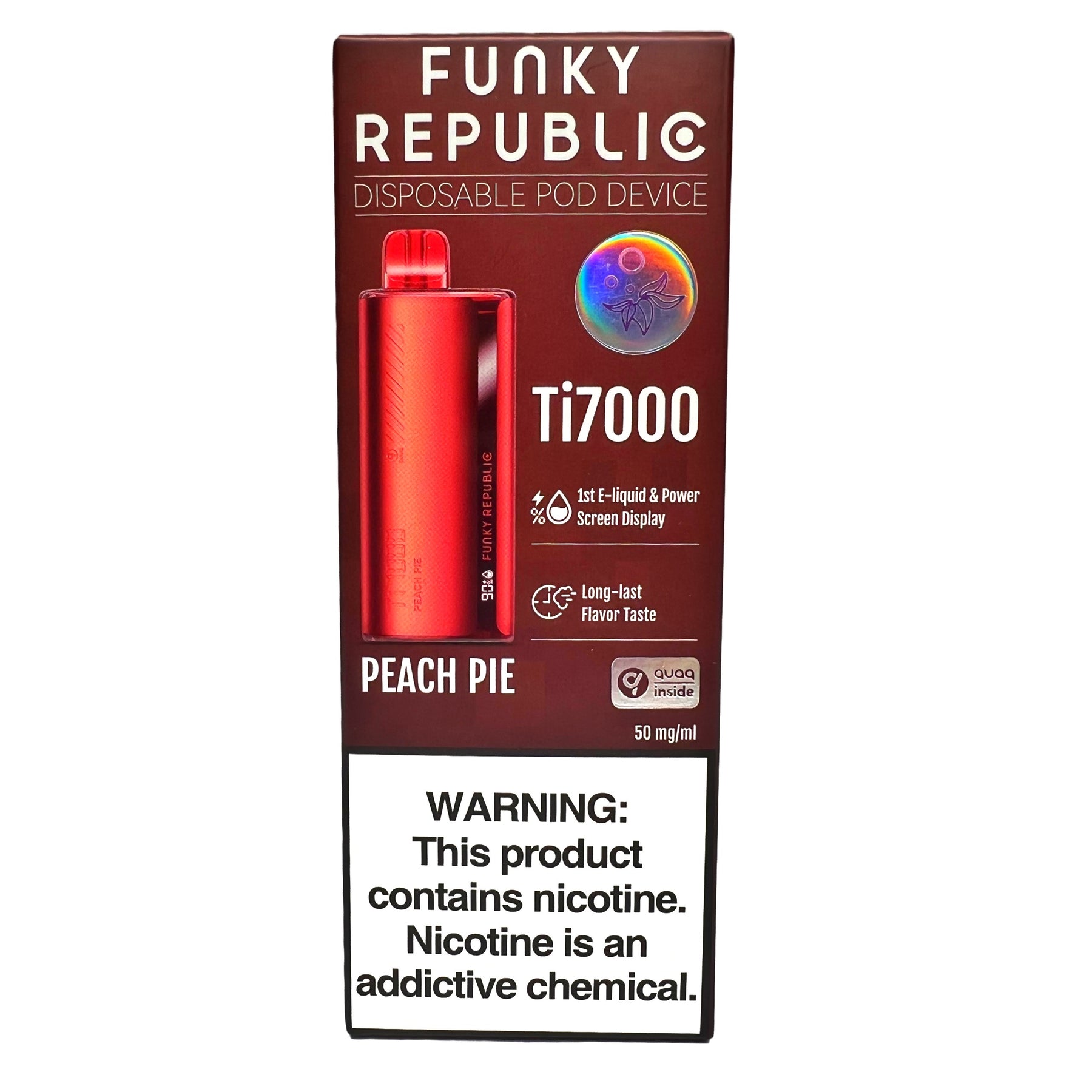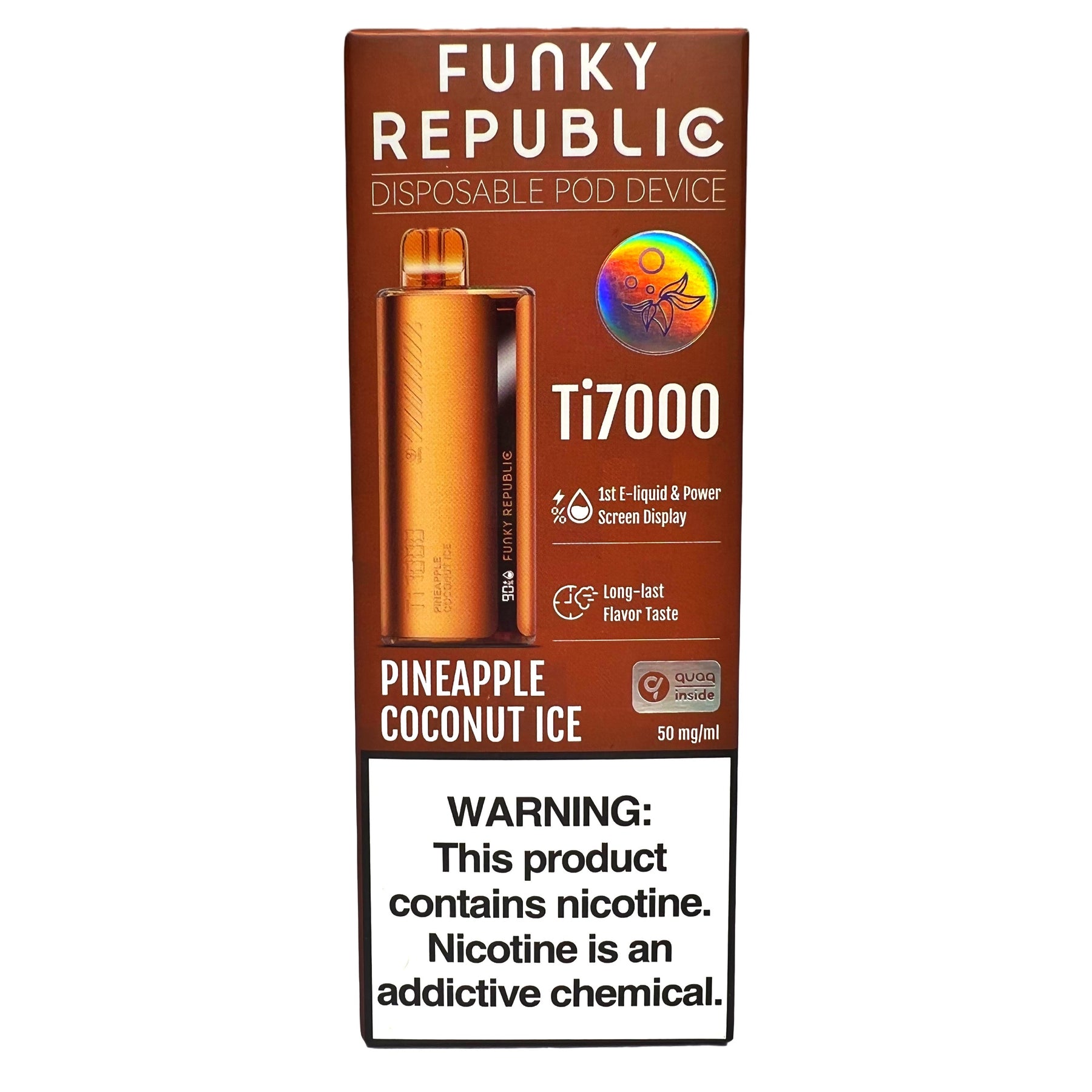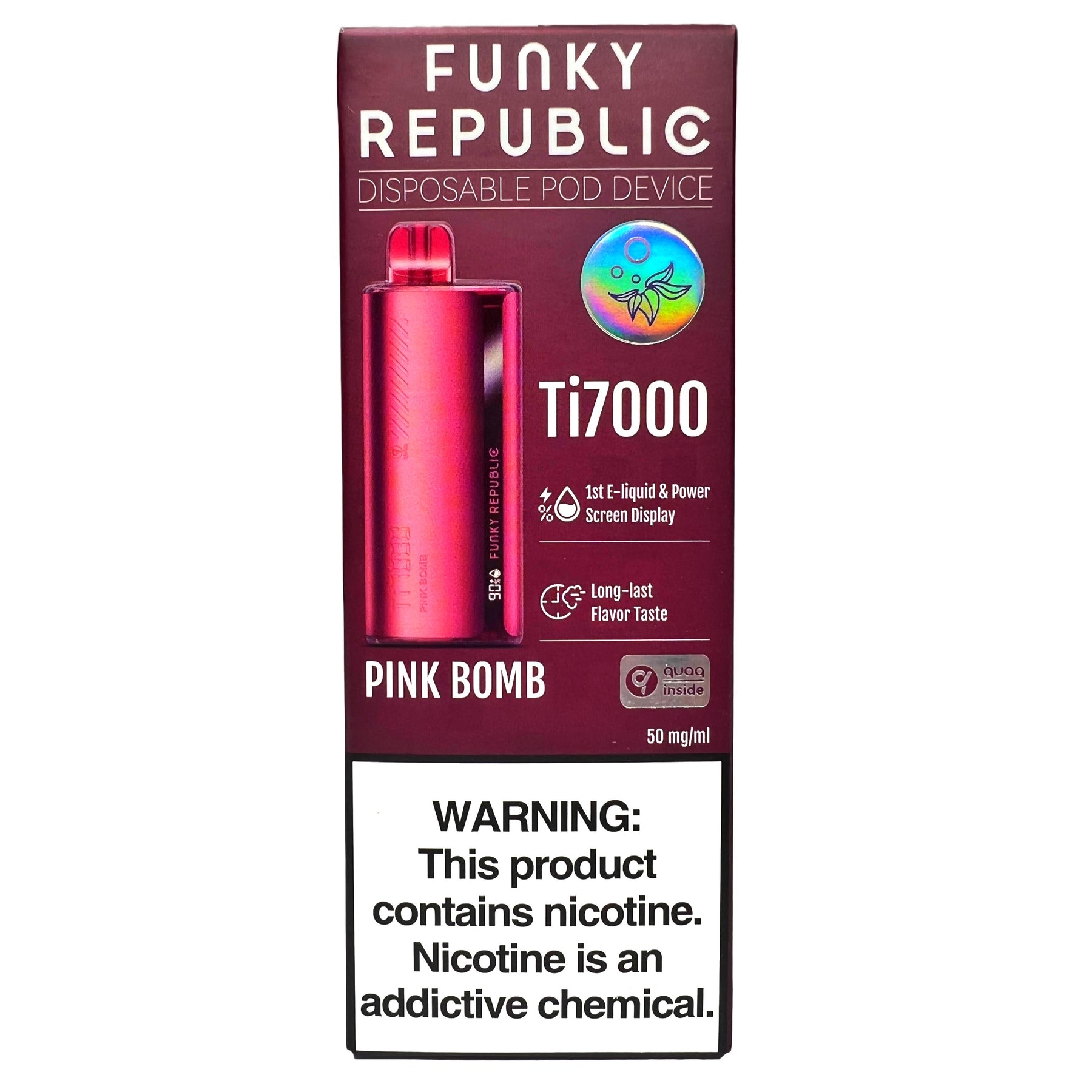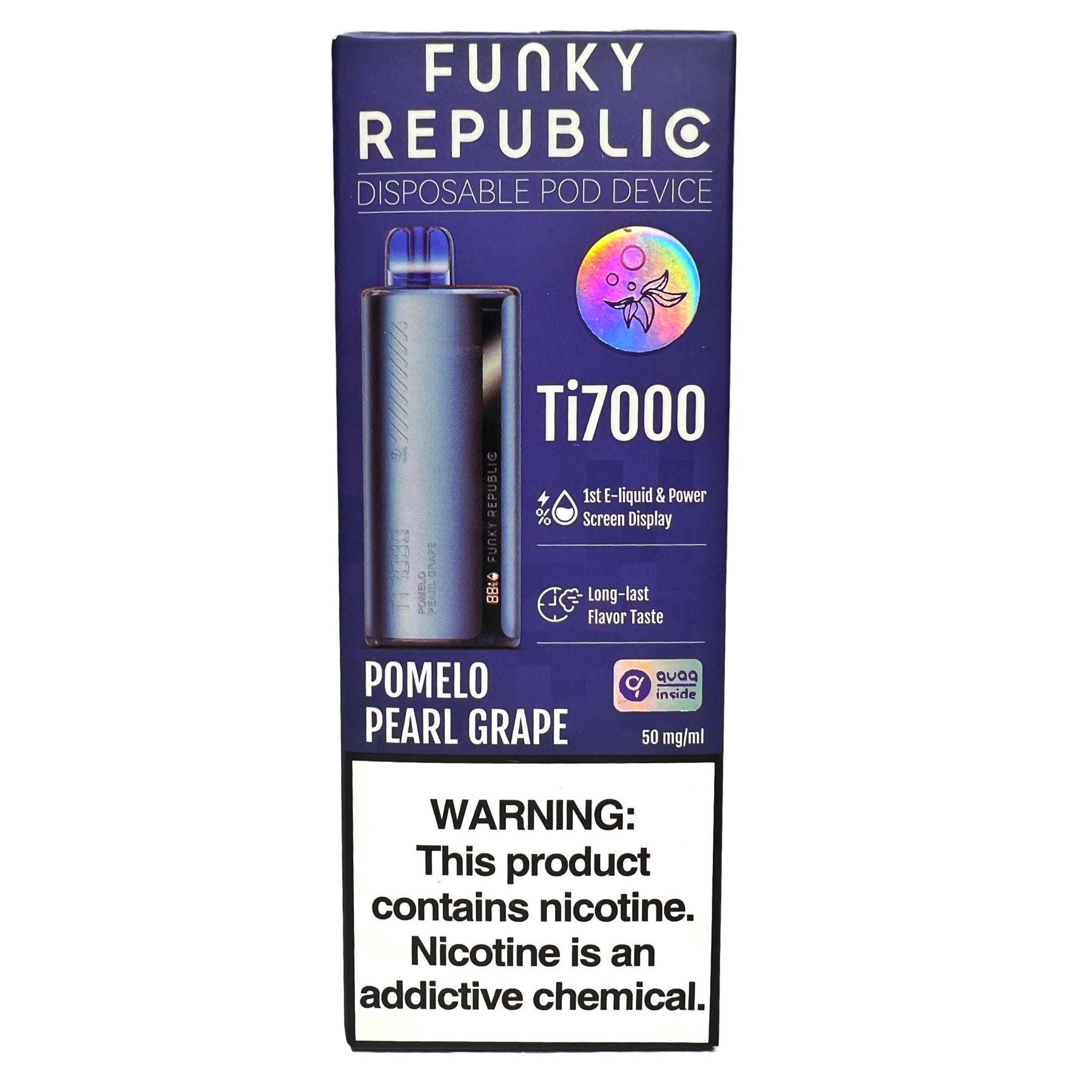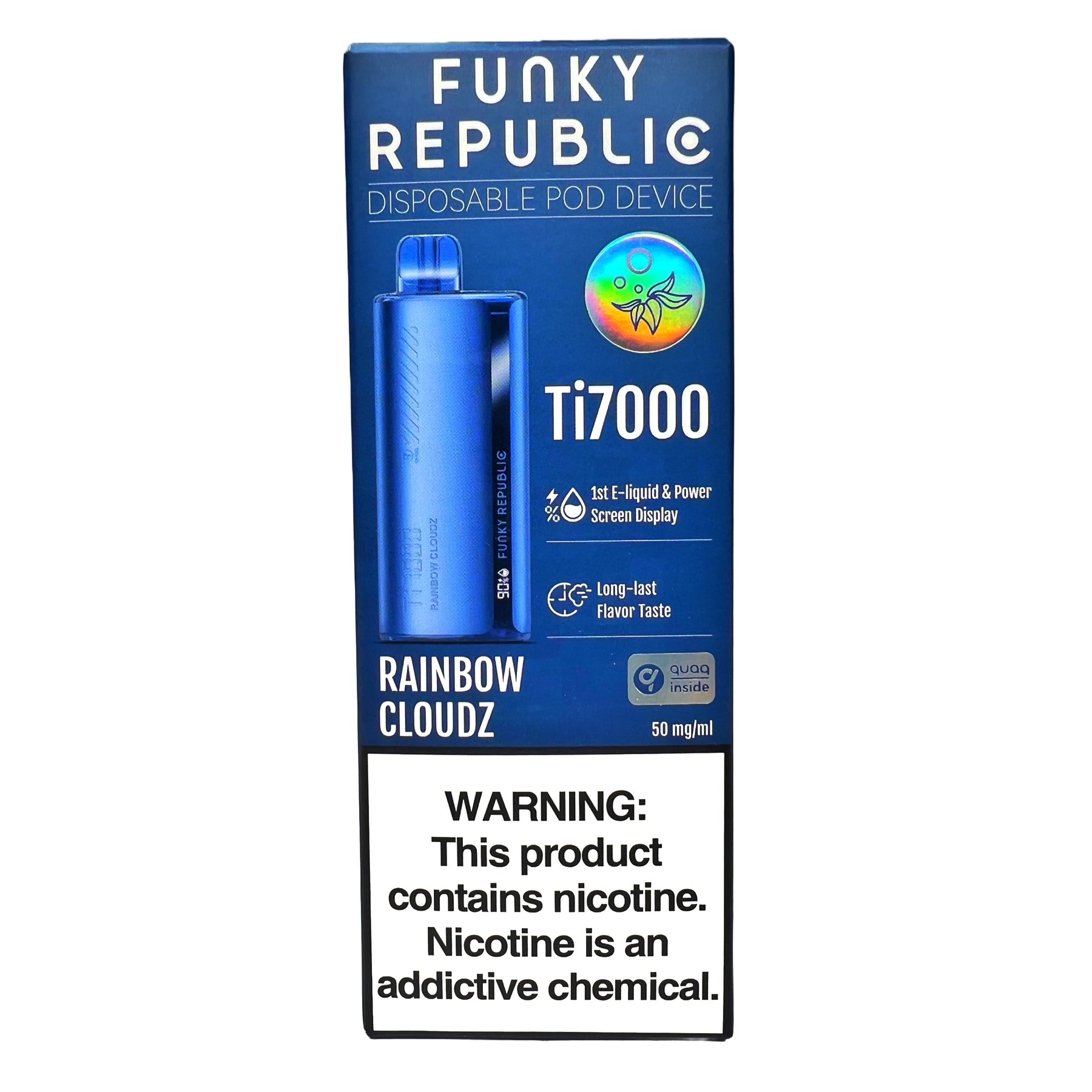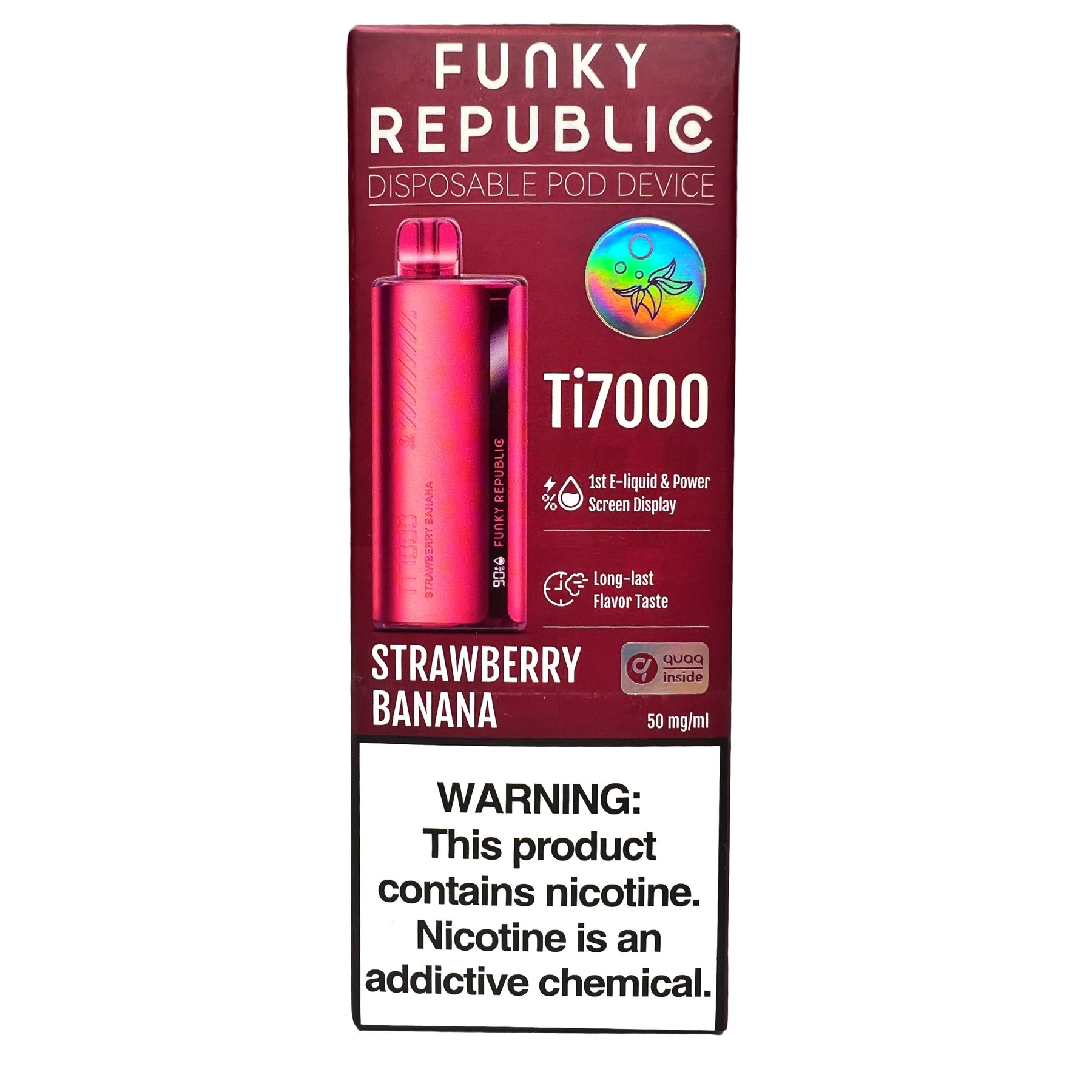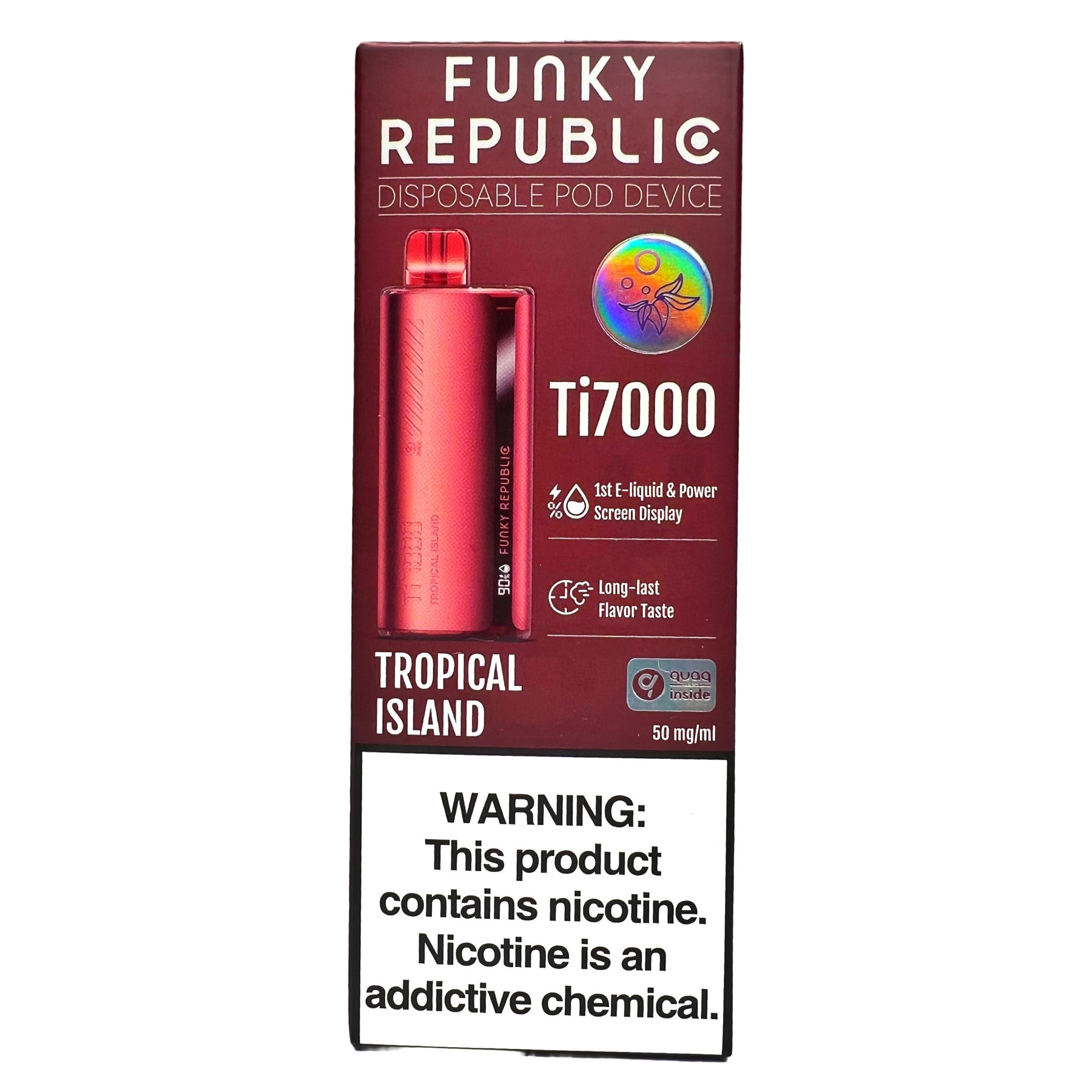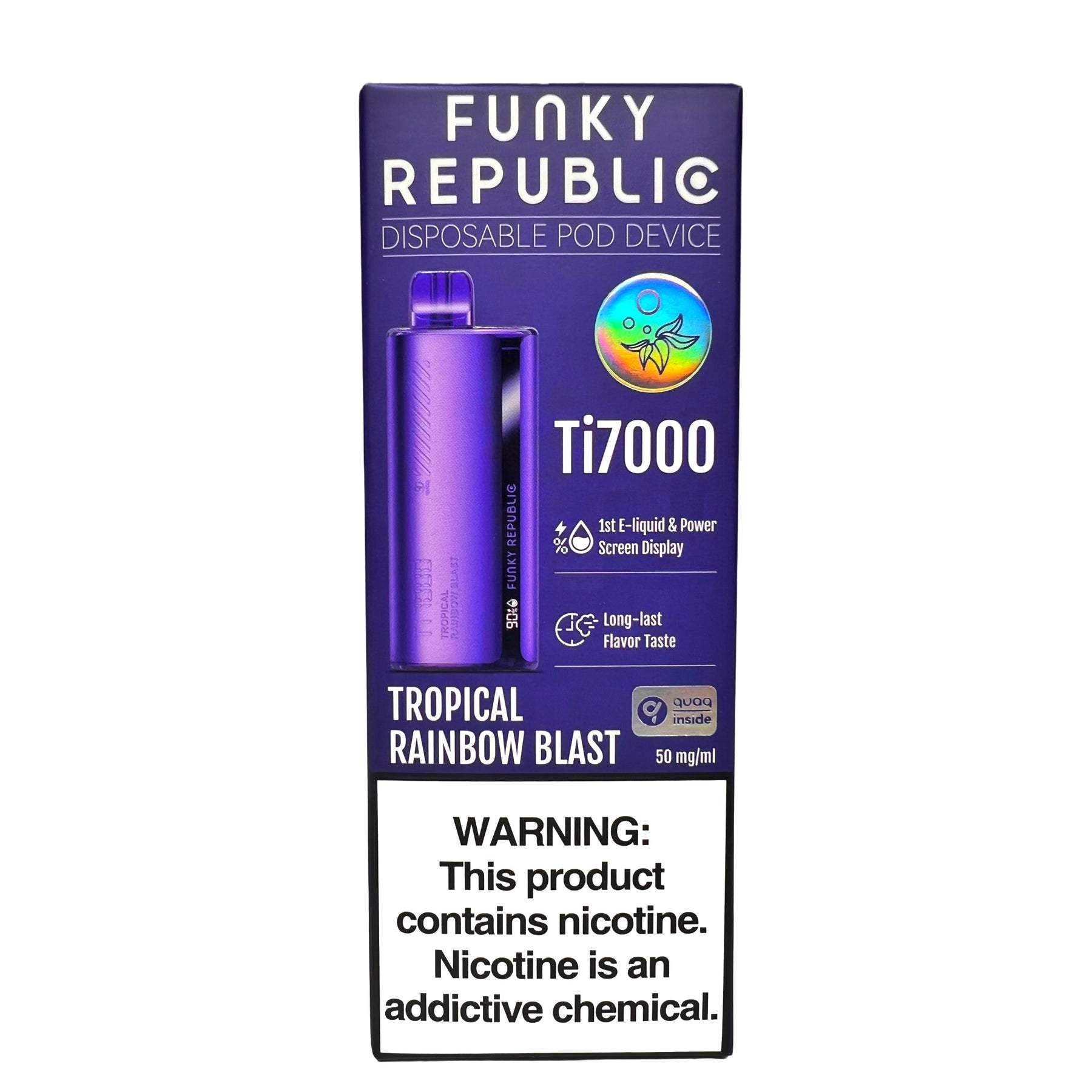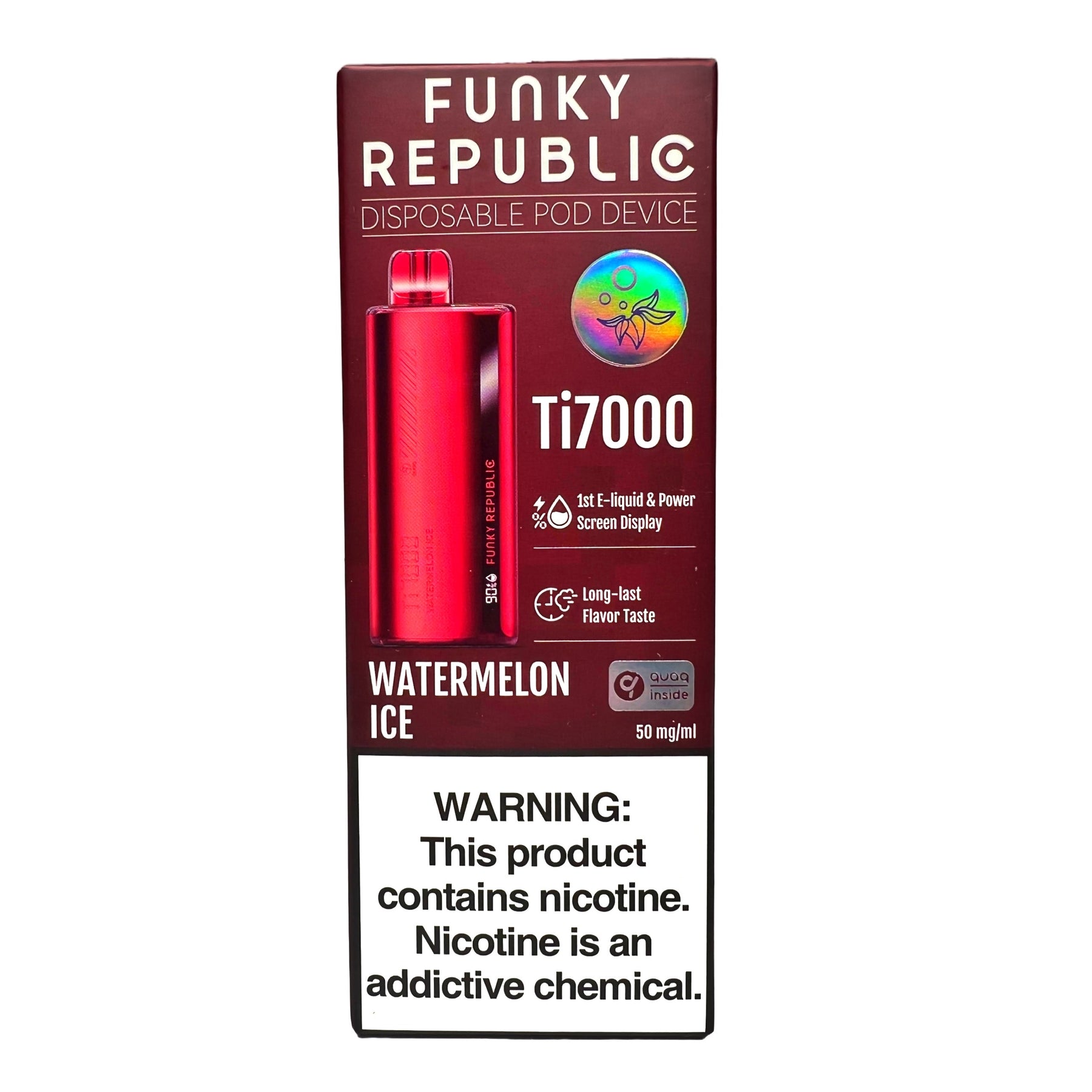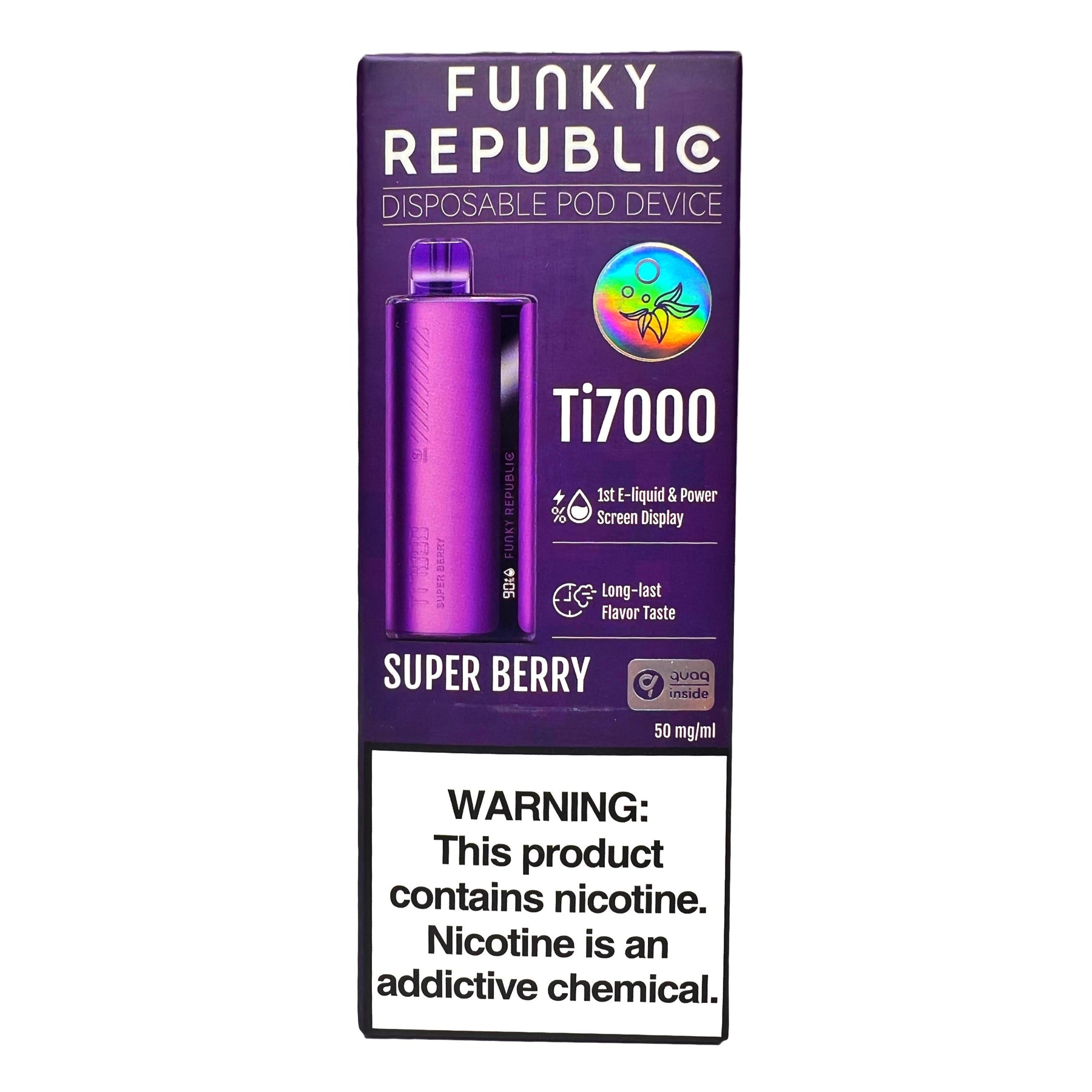 Funky Republic Ti7000 Disposable Device
The Funky Republic TI7000 disposable vape device is the newest cutting edge vaping technology designed to please your taste buds and satisfy your nicotine craving. When it comes to flavor and vapor production there are very few other vapes that come close to the Funky Republic. The unbelievably smooth flavor profiles that are produced by the Funky Republic 7000 puffs vapes are due to the specialized quaq technology that is unique to these vapes. In addition, the 600mah battery capacity, type c charging connection, 7000 puffs capacity and digital screen display are all factors that make this disposable vape one of the best ever.
Funky Republic Disposable Vape Device Features
What sets these vapes apart from the majority is the fact that they have an LED screen display that tells you the e juice left in the device as well as the battery level. The E liquid indicator is something we have never seen in a disposable vape before which is something that has popularized this vape quite rapidly.
Who Makes Funky Republic Vapes?
The innovative minds that worked together to create this masterpiece of a vape are part of the same company that created the Elf Bar.
Flavors Available for the Funky Republic:
Pink Bomb - Pink Bomb is simply a blast of amazing flavors and a great introduction into the flavors of the Funky Republic. Find hints of raspberry, cream, lemon and pink starburst in this unique flavor.
Tropical Island - This flavor is exactly what it sounds like. Experience the feeling of being on a tropical island with nothing to worry about. Just 7000 puffs of mango, peach, coconut, pineapple and other tropical flavors. 
Super Berry - A bird? A plane? No! It's Super Berry! The hands down best berry flavor on the market. Blueberry, blackberry, raspberry and more! This flavor has it all.
Pomelo Pearl Grape -The primary grape flavor on the Funky Republic disposables. It is mixed with a floral pomelo flavor which is similar to a grapefruit. This flavor will not disappoint.
California Cherry - This carefully crafted flavor is both sweet and sour. It resembles the juicy taste of a dark red California Cherry.
Passion Fruit Kiwi Lime - This flavor is brand new. It is a funky mix of a tropical passion fruit, a sweet kiwi, and a tangy lime. Experience the ride from sweet to tangy to sour in one refreshing vape disposable.
Cantaloupe Apple - A 50/50 blend of a sweet cantaloupe melon and a sour green apple to create a flavor that will satisfy your taste buds. Try something new with this sweet and sour combination!
Peach Mango Watermelon - The perfect triple threat of peach, mango and watermelon. A must try for any fruit lovers.
Rainbow Cloudz - An all time favorite mix of all the fruit flavors in the rainbow. Contains citrus, berries, grapes and much more!
Strawberry Banana - This flavor is both creamy and smooth. It is great for those who love a sweet and fruity flavor without the menthol or ice.
Tropical Rainbow Blast - The tropical and fruity flavor we all know and love. Experience 45% more flavor compared to the original Elf Bar due to the new Quaq Coil Technology.
Blue Razz Ice - This flavor introduces a sweet blue raspberry taste with a dash of menthol at the end for refreshment. 7000 hits of pure bliss. 
Pineapple Coconut Ice - This flavor is an upgrade from the classic flavor we all know and love from the Elf Bar. A fruity tropical blend mixed with a refreshing hint of menthol. Not too sweet nor too icy, this flavor is just right. 
Peach Pie - A masterful throwback to your grandmother's peach cobbler on Thanksgiving Evening. Enjoy the freshly baked feeling of a Georgia Peach. Perfect for those with a sweet tooth.
Watermelon Ice - The classic Watermelon Ice like never before. Funky Republic has formulated the perfect mixture of juicy watermelon and refreshing mint to create the most refreshing flavor on this lineup. Kick back on a hot summer day and enjoy this amazing take on the Watermelon Ice flavor.
I copied this . It was just right.
It's an elf bar basically with more juice and a LCD screen that shows your juice levels and battery percentage with amazing great flavors! Definitely will be buying again!
Great Product
It's an elf bar basically with more juice and a lcd screen that shows your juice levels and battery percentage with amazing great flavors! Definitely will be buying again!
Flavors are good
Have been a huge fan of Elf Bars recently and i saw they came out with this new vape so i had to get one. Really loved the watermelon ice. Hopefully you guys can stay stocked up on good flavors.